Landscape Scale Conservation Planning
Partnership
In this area of Iowa and Illinois, we have a unique conservation opportunity to put a priority on reconstruction of habitats and remaining wild spaces that are the very places where Leopold's adventures set the stage for the development of the Land Ethic - the very places that provided the backdrop for Leopold's first realization of personal freedom and the importance of nature to the human spirit.
The Leopold Landscape Alliance is working to form an expanded partnership of non-government organizations and agencies that will base its programs on natural science leadership.  We plan to establish a board of directors with members from a range of conservation activities across the country consisting of Leopold scholars, conservation biologists and large landscape scale planners.  The goal is to grow this partnership into a coalition with nationally experienced organizations that will eventually accept the Alliance's assets and house, and operate the conservation projects under Leopold's name. 
Background
Most of Aldo Leopold's life unfolded in three regions:  around Burlington, Io
wa, the Southwest, and Wisconsin.  Born and raised in Burlington, Aldo started his conservation journey with the guidance of an extraordinary family and nearby wild landscapes.  While in the Southwest he helped guide the young US Forest Service toward inter-related natural resource management.  And in Wisconsin, while developing the profession of wildlife management, he realized that wild spaces and habitat are primarily in the hands of private land owners. Consequently, the means to sustainable habitats and natural ecosystem recovery lie in education and programs to encourage private conservation.
Unlike the West, where Leopold started his career, the smaller parcels of land in the Midland states needed their land uses and ecosystems woven together.  So Leopold experimented with cooperative conservation practices among groups of private land owners.  Farmers began to realize that preventing erosion of fields and sustaining harvests were also good for woodland production, hunting habitat, and landscape beauty.  All these functions were dependent on how they managed croplands and marginally productive edges. 
The edges then, are key to building healthy working landscapes and recovering enough wildness to sustain the native biotic community. Increasing examples of Leopold's integrated thinking and community based conservation are taking hold across the country and around the world.  
In the Southwest and Wisconsin Leopold is celebrated through conservation projects with private land owners, dedicated public l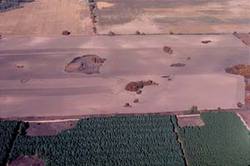 ands and visitor centers.  The Burlington area, where Leopold began his love of the wild, could become another region to encourage land health and create models of the 'Land Ethic'. 
In the Mississippi Valley, streams, old meanders, wet pockets, drainage ditches, sand ridges & knob islands still remain as edges to agriculture and could become the connecting fabric binding together the agricultural systems and the natural ecosystems.  The Leopold Landscape Alliance will bring organizations and private land owners together, developing conservation projects that provide connectivity within the native biotic community. 
Leopold's childhood home presents an important opportunity to encourage a wide variety of cooperation in key locations of the Mississippi Valley.   So strangely, our first priority is in the house purchase.  However, we have already had inquiries in both Iowa and Illinois about possibilities of working together on wetland areas.
Stay tuned as we move forward.
---
---