Events
Guest Speaker Series
---
ALDO LEOPOLD - A STANDARD OF CHANGE
 a one man play by Jim Pfitzer.  Set on the WI farm that inspired A Sand County Almanac.  The play explores the interaction of human progress and wildness, and how one man re-thought his attitudes towards both.
Friday, Sept. 22, 2017  7:30 pm
Capitol Theater event, Downtown Burlington
Tickets:  General Admission $10/ Students $5
---
 International Leopold Program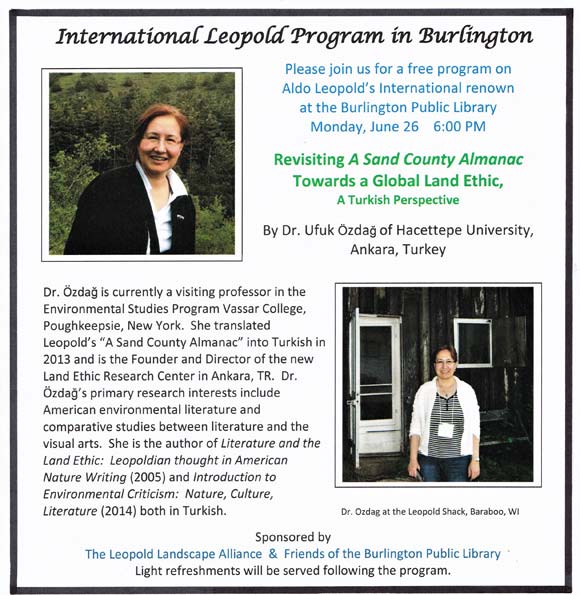 Dr. Özdağ is Founding Member and Director of the Turkish Land Ethic Center at Hacettepe University's Beytepe Campus (a green area with rich flora & fauna) just outside Ankara.  The Center was inspired by A Sand County Almanac and the Aldo Leopold Foundation's guidance.  Ufuk's plan is to initiate the Leopold Education Project in this Center, adapting it to the Turkish needs.  She also hopes that the Center will trigger Turkish volunteers and naturalists to restore a tract of worn out land.  Ufuk says they "are very excited to see what is possible for land that has been used recklessly for thousands of years."  Their project follows the example set by Aldo Leopold in the 1930's at the University of Wisconsin Arboretum (Curtis Prairie) and restoration at the Leopold family's old farm retreat near Baraboo, Wisconsin -- The Shack.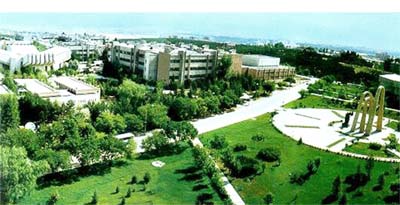 http://www.topraketigi.hacettepe.edu.tr/
  At Hacettepe University in Ankara, Ufuk Özdag, Ph.D. is professor of American Culture and Literature.  She teaches at both the undergraduate and graduate level on American Literature, Culture and the Arts, and also Literature and Environment.  Her other books include:  Introduction to Environmental Criticism: Nature, Culture, Literature, and she is co-editor of The Future of Ecocriticism: New Horizons, and Environmental Crisis and Human Costs. 
Professor Özdağ is coming to Burlington directly from the "Building a Land Ethic" Conference in Baraboo, Wisconsin, held by the Aldo Leopold Foundation. Ufuk will be with us to present her perspective on the growing need for a global land ethic to guide humans in their role as a part of the biotic community.  Responsible use and sustainability of the land is still a new concept in the US and around the world.  Some see it in conflict with economic progress, not realizing that a balance between working landscapes, diversity and habitat restoration protects the land for future generations. 
To read Dr. Özdağ's full report on her visit to Burlington                                        
and the newspaper article describing her program 

Click here

.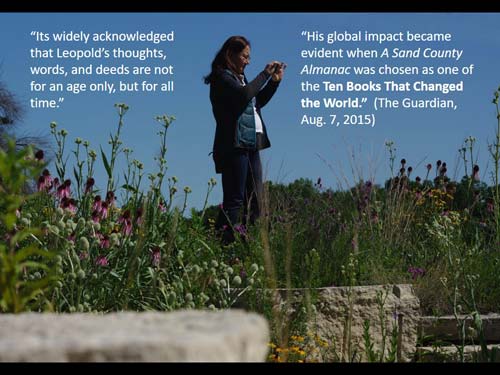 Dr. Özdag's visit to Burlington is a part of the Leopold Landscape Alliance's Researcher/Artist/Writer in Residence program.  She has recently been translating more of Leopold's essays from Round River and is coming to Burlington to study the more detailed nuance found in Leopold's writing.  Aldo's hometown experience in nature and with human nature surfaces in many of the essays.                                                                 
As Aldo said, "nothing so important as an ethic is ever 'written'...it evolve(s) in the minds of a thinking community."
Ufuk is particularly interested in seeing and experiencing the home grounds and tramping places that first aroused Aldo's curiosity and illuminated his perception of values.  The observations and writing of his earliest experiences set the stage for all that followed.
---
The Starker-Leopold family stimulated the youngsters at an early age by teaching how all the humanities are connected to nature.  Adventures in literature, art, music, geography and even gardening encouraged the children to seek out parallel experiences in their own expanding world.  This gave the opportunity for comparison to the insights and values of the writers, artists, musicians, and naturalists they were learning about.
 At the turn of the last century, Aldo's mother, Clara Starker Leopold, urged all of her children to write notes and journals about everything they experienced so the family in Burlington could stay connected with their adventures and developing ideas when they travelled out during their educations. In the case of Aldo, who they expected to follow a career in the natural sciences, this became a habit of observation and description that set a pattern for life..    
 Round River & Other Essays on Conservation: --                                                               A Sampler of Thoughtful Leopold Quotes
Included in the 1966 Edition of A Sand County Almanac is "Other Essays on Conservation from Round River".  Within these essays are many references to his childhood experiences, some obvious and some not so much.  Ufuk's most recent translations have the task of interpreting Leopold's lyrical style and his sometimes not so evident underlying meaning.  Here is a sampling of Aldo's thinking and writing found among the Round River essays -- expressing his thoughtful values found in nature.
In the forward to the 1966 edition of ASCA, Leopold presents his central idea, "That land is a community is the basic concept of ecology, but that land is to be loved and respected is an extension of ethics.  That land yields a cultural harvest is a fact long known, but latterly often forgotten."
There is much confusion between land and country.  Land is the place where corn, gullies and mortgages grow.  Country is the personality of the land, the collective harmony of its soil, life, and weather.  Country knows no mortgages, no alphabetical agencies; it is calmly aloof to petty exigencies of its alleged owners.    -- "Country"
In searching for that special "something" found in nature, Aldo asked, Have we made any headway in developing 'a refined taste in natural objects'?     --  "The Round River
Poets sing and hunters scale the mountains for primarily one and the same reason--the thrill to beauty.  Critics write and hunters outwit their game for primarily one and the same reason - to reduce that beauty to possession.  The differences are largely matters of degree, consciousness, and that sly arbiter of the classification of human activities, language.  If, then, we can live without goose music, we may as well do away with the stars, or sunsets, or Iliads.  But the point is that we would be fools to do away with any of them.     --  "Goose Music"
I think we have here the root of the problem.  What conservation education must build is an ethical underpinning for land economics and a universal curiosity to understand the land mechanism.  Conservation may then follow.     -- "The Round River"
The common denominator of all hunters is the realization that there is always something to hunt.  The world teems with creatures, processes, and events that are trying to elude you.  Every ground is a hunting ground, whether it lies between you and the curbstone, or in the illimitable woods where rolls the Oregon.  The final test of the hunter is whether he is keen to go hunting in a vacant lot.     -- "The Deer Swath"
There are yet many (children) to be born who, like Isaiah, 'may see and know that the hand of the Lord has done this.'  But where shall they see, and know, and consider?  In museums?     -- "Goose Music"
---
---
Iowa Leopold Week--the first week of March! 
To celebrate,
Leopold biographer, Dr. Susan Flader, was with us for a March 2,

presentation on Leopold's Iowa conservation work.  The event was co-sponsored by the Friends of the Library. 
We had a great turn-out!  Thanks to Susan for her inspiring program on Citizenship and sharing her valuable time with us.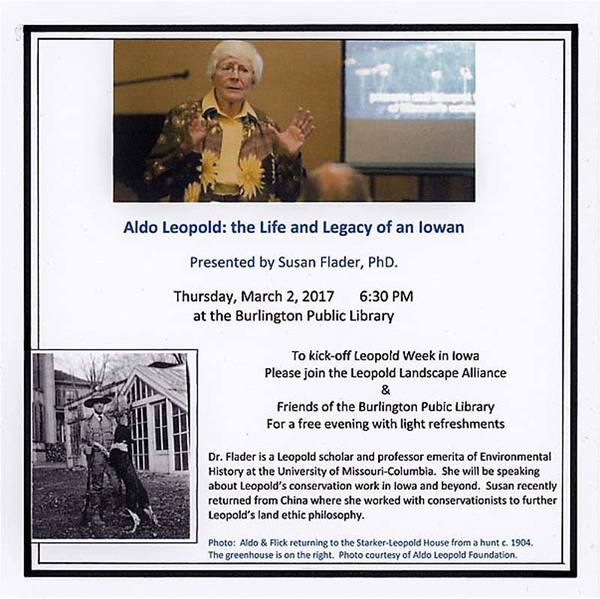 Dr. Flader, professor emerita University of Missouri,
  is president of the L-A-D Foundation in Missouri,

past president of the Aldo Leopold Foundation in Baraboo, WI,  and has written extensively on Leopold and environmental history.  She has recently returned from China where she worked with conservationists  promoting Green Fire and Leopold's Land Ethic there.
Click here

to read the newspaper article on Dr. Flader's program.
We were also joined that week by the Rev. Charles Fels and his wife, Rev. Susan Sgarlat.  You may remember that Charles is the president of the Les Cheneaux Club where the Leopolds spent their summers.  He and Susan were here doing library research and enjoyed a few days of staying at the Leopold Boyhood Home.
---
---


Summers with the Leopold Family                                                                  at the Les Cheneaux Club
Presented by Rev. Charles Fels, President of the Les Cheneaux Club
February 29, 2016, Burlington Public Library
The Governor's Proclamation of Leopold Week is the First Full Week in March.  As a kick-off event we had the Rev. Charles Fels of the Les Cheneaux Club visiting Burlington for our Guest Speaker Series. 
 Aldo Leopold grew up in Burlington, but each summer he and his family spent two months at the Les Cheneaux Club on Marquette Island in Northern Lake Huron.  Aldo's father Carl served as President of the Club and was the club's golf champion, while Aldo spent most of his time hunting in the woods, fishing and sailing.  The Leopold family's life in Michigan in the summers between 1890 and 1914 was described using family pictures taken in Burlington and at the Les Cheneaux Club by members of the Leopold family. 
The program was presented by current President of the Les Cheneaux Club, the Rev. Charles Fels, our guest speaker.  Rev. Fels was Assistant US Attorney and Assistant District Attorney at Knoxville, Tennessee.  His family first visited Les Cheneaux in 1920 and knew Aldo's mother, Clara Leopold, and his sister, Marie Leopold Lord.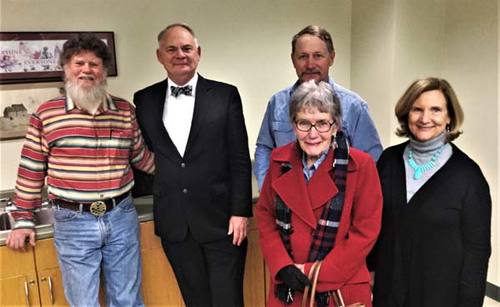 Jim Spring, Rev. Charles Fels, Nelson Smith, Caryl Leopold Smith, Rev. Susan Sgarlat Fels


GREENFIRE Showings
 The award winning Greenfire film by USFS and ALF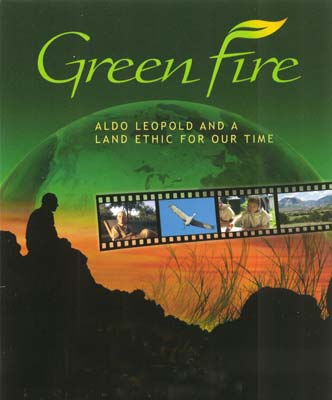 LLA showings:
Dec.   5, 2017  Reception, Iowa Natural Heritage Foundation, Leopold House, Burlington, Iowa.
Sep. 25, 2016  Tour of Homes, Heritage Foundation & LLA, Leopold House, Burlington, Iowa.
Aug. 10, 2016   Muscatine Branching Out, Trees Forever & LLA, Palms Theater, Muscatine, Iowa.
July  16, 2016   Downtown Vintage Fest, , Downtown Partners, Capitol Theater, Burlington, Iowa.
Mar   31, 2016   Henry County Sustainable Farmers & Friends, Iowa Wesleyan College, Mt. Pleasant, Iowa.
Aug.  26, 2014   Great River Christian School, LLA, Leopold House, Burlington, Iowa.
Feb.  13, 2014   Learning is Forever Series, Extension Service, Western Illinois Univ., Macomb, Il. 
Jan.   28, 2014   Des Moines County Historical Society and LLA, DM County Heritage Center, Burlington, Iowa.
Nov.  21, 2013   Campus Greens, Western Illinois University, Macomb, IL.
Nov.  14, 2013   Prairie Land Conservancy, Prairie Land RC&D, Macomb IL.
Feb.  10, 2013   Iowa Sierra Club, Leopold Group Chapter, Civic Center, Fairfield, IA.
Apr.   24. 2012   Henry County Conservation Commission, Oakland Mills State Park., Mt. Pleasant, IA.
Feb.    3, 2012   Iowa Conservation Educators Conference, Honey Creek State Park, Centerville, IA.
Aug.    5, 2011   Hoover Days, Herbert Hoover Presidential Library, West Branch, IA.
Apr.   16, 2011   Students at Aldo Leopold Middle School, Burlington, IA
Apr.     9, 2011   Burlington Premier, Aldo Leopold Middle School, Burlington, IA.