Conservation Page

Landscape Scale Conservation Planning
Partnership
In this area of Iowa and Illinois, we have a unique conservation opportunity to put a priority on reconstruction of habitats and remaining wild spaces that are the very places where Leopold's adventures set the stage for the development of the Land Ethic - the very places that provided the backdrop for Leopold's first realization of personal freedom and the importance of nature to the human spirit.
The Leopold Landscape Alliance is working to form an expanded partnership of non-government organizations and agencies that will base its programs on natural science leadership.  We plan to establish a board of directors with members from a range of conservation activities across the country consisting of Leopold scholars, conservation biologists and large landscape scale planners.  The goal is to grow this partnership into a coalition with nationally experienced organizations that will eventually accept the Alliance's assets and house, and operate the conservation projects under Leopold's name. 
Background
Most of Aldo Leopold's life unfolded in three regions:  around Burlington, Io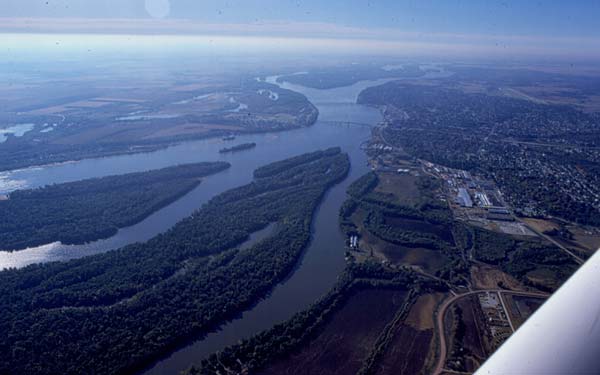 wa, the Southwest, and Wisconsin.  Born and raised in Burlington, Aldo started his conservation journey with the guidance of an extraordinary family and nearby wild landscapes.  While in the Southwest he helped guide the young US Forest Service toward inter-related natural resource management.  And in Wisconsin, while developing the profession of wildlife management, he realized that wild spaces and habitat are primarily in the hands of private land owners. Consequently, the means to sustainable habitats and natural ecosystem recovery lie in education and programs to encourage private conservation.
Unlike the West, where Leopold started his career, the smaller parcels of land in the Midland states needed their land uses and ecosystems woven together.  So Leopold experimented with cooperative conservation practices among groups of private land owners.  Farmers began to realize that preventing erosion of fields and sustaining harvests were also good for woodland production, hunting habitat, and landscape beauty.  All these functions were dependent on how they managed croplands and marginally productive edges. 
The edges then, are key to building healthy working landscapes and recovering enough wildness to sustain the native biotic community. Increasing examples of Leopold's integrated thinking and community based conservation are taking hold across the country and around the world.  
In the Southwest and Wisconsin Leopold is celebrated through conservation projects with private land owners, dedicated public l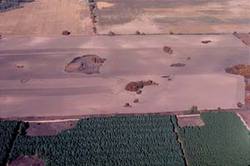 ands and visitor centers.  The Burlington area, where Leopold began his love of the wild, could become another region to encourage land health and create models of the 'Land Ethic'. 
In the Mississippi Valley, streams, old meanders, wet pockets, drainage ditches, sand ridges & knob islands still remain as edges to agriculture and could become the connecting fabric binding together the agricultural systems and the natural ecosystems.  The Leopold Landscape Alliance will bring organizations and private land owners together, developing conservation projects that provide connectivity within the native biotic community. 
Leopold's childhood home presents an important opportunity to encourage a wide variety of cooperation in key locations of the Mississippi Valley.   So strangely, our first priority is in the house purchase.  However, we have already had inquiries in both Iowa and Illinois about possibilities of working together on wetland areas.
Stay tuned as we move forward.
---
---
 

Small Scale Conservation Projects
From the small scale of an individual tree or a prairie outdoor classroom to the large landscape scale of whole watersheds --- all projects are pieces of an ecosystem puzzle.  Here are a few examples of small scale projects we have been working on with the Leopold Heritage Group.
Leopold's Trees
The Starker/Leopold family had a tradition of planting trees for important occasions like birthdays and weddings.  For Aldo's birth day they planted a red oak in 1887. Actually, Grandfather Starker planted red oaks for each of the four grandchildren.   By 2013 the great tree had reached a diameter of five feet.  A heavy storm took the tree down on May 30, 2013, or it might have lived many more decades. Several of the Starker-Leopold maples also blew down.   Another record storm in 2014 toppled more of the large sugar maple trees on the property.  We are replanting seedlings from the original trees for continuity through the generations. 
Rather than have the trees go for firewood, it was decided to save as much of the trees as possible for enjoyment by the ever growing number of Leopold enthusiasts. Some of the wood is being used for fund raising projects and for museums and visitor centers.  Jim Spring, Frederic Leopold's grandson, is turning beautiful wooden bowls.  Sculptor Homer Daehn is working on a piece.  Furniture is being made from the lumber.  The Midewin National Tall Grass Prairie folks came over and took a large stump to have carved for their visitor center.  The straight logs have been sawed into lumber for furniture and memorial plaques.  A bench in the new Port Louisa National Wildlife Refuge Visitor Center was constructed from this wood.  The Aldo Leopold Foundation in Baraboo also plans to use some of Leopold's oak in a display. And now Covered Bridge Country Canoe Works is building a wood strip canoe incorporating Leopold Red Oak and Starker-Leopold Sugar Maple.   
---
Frederic Leopold, Wood Duck Expert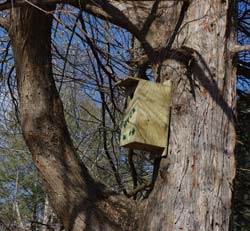 Wood ducks are cavity nesters in trees near rivers and lakes.  In the early 20th century before hunting restrictions, they were an endangered species.  Frederic said, "Wood ducks were subjected to double jeopardy because they nested here and were hunted year round."   He recalled his father, Carl, had stopped spring shooting before game laws, and eventually ceased hunting the Woodies altogether.
This spring of 2015 the Alliance began a small scale conservation project of re-establishing and monitoring wood duck nesting boxes on the Leopold property, a tradition begun by Fred many years earlier.
Aldo's younger brother, "Fritz" moved back into in the Leopold House at 111 Clay St, when he married Edith after his college and Army years.  From about 1920 until 1989 he was the primary manager of the compound, assisting Mother Clara until her passing in 1948. 
After the wood ducks began to make a slow comeback in the 1920's, Fred helped brother Aldo with monitoring  in the 1930's.  Aldo's student, Arthur Hawkins, started working on wood ducks for the Illinois Natural History Survey and was assisted by Fred in 1939 on studies at Crystal Lake Club in Illinois.
Art and Fred tried the new idea of using wood duck nesting boxes, with Fred inspecting and recording the "Woodies" activity on a daily basis.  Hawkins designed the nesting boxes and the CCC built them.  During Art's travels from southern Illinois to Wisconsin and back, he often stayed with Fred and Edith at the Leopold Boyhood Home.       
    (Read more of the Wood Duck story)
---

 Leopold School Outdoor Prairie Classroom
Native Prairie History
Iowa prairie soil is rich and fertile but the plant and animal community which created the prairie has mostly been lost to food production.  Industry and towns that have gown up around the subtle rolling landscape further consumed the savannah and woodlands.  Dragonflies and oak groves, butterflies and grassland birds are all in decline due to habitat loss.  Losing 98% of the Iowa prairie means we have fewer wild places to grow our imaginations in the way our ancestors enjoyed.
However, the change is deeper than landscape aesthetics.  20,000 years of perennial prairie roots growing deep into the glacial soils created air spaces 16 feet down.  The spongy soil absorbed rain water, so that there was almost no run-off, even on hills; therefore, little erosion and fewer floods.
We could go on about the problems of shallow rooted annual plants, erosion, nutrient run-off and compaction or paving.  But recovery is possible, by reconstructing the prairie soil biotic community that endured so long.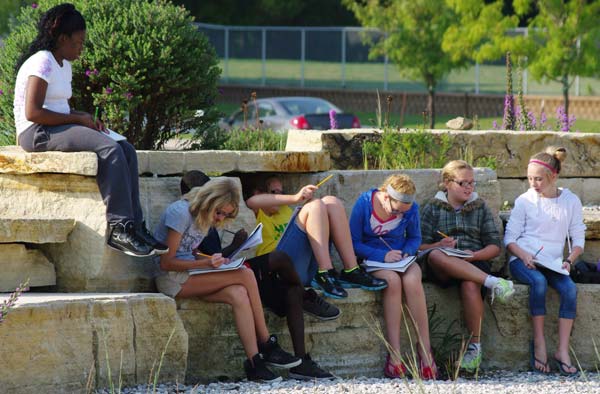 A future lepidopterist alighted on a rock, with a future entomologist, geologist, ornithologist, botanist, paleontologist and a sociologist recording the day's discoveries.