The Aldo Leopold Childhood Home in Burlington, Iowa has recently been purchased by the Leopold Landscape Alliance.  In addition to  purchasing the Leopold family homes for interpretation, the Alliance encourages landscape scale conservation in the Iowa/Illinois Mississippi River region. 
---
To kick off 

IOWA LEOPOLD WEEK

,  the first week in March,
please join the Leopold Landscape Alliance
and the Friends of the Burlington Public Library for this free evening with light refreshments:
Aldo Leopold was for the Birds!
presented by Stanley A. Temple, PhD, Professor Emeritus in Conservation, UW Madison, and Senior Fellow of the Aldo Leopold Foundation
Thursday, March 1 at 6:30 pm, at the Leopold Loft in Star's Cave Nature Center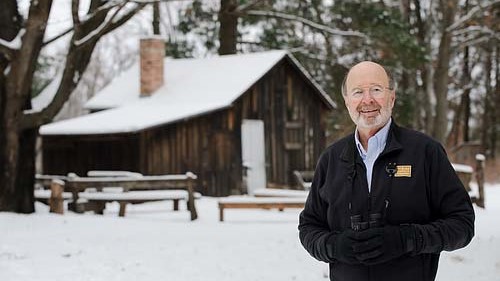 Stan with his birding binoculars at Leopold's Shack.
---
Dr. Estella Leopold Joins the Board of Directors
LLA is especially pleased to announce that Aldo and Estella's daughter, Dr. Estella B. Leopold, world renowned conservation scientist, has joined our Board of Directors.  Dr. Leopold is Professor Emerita of Paleo-Botany at the University of Washington in Seattle. 
We are very happy to have someone of her stature as the first member of our Board to represent the national scope of Leopold interests.  
Estella had been serving as an Advisor to LLA.

 

Starting this fall, she officially joined our Board to help spread the word about her father's legacy originating in Burlington.  Dr. Leopold  has recently added to the Leopold narrative with two books - Saved in Time:  The Fight to Establish Florissant Fossil Beds National Monument, 2012 and Stories from the Shack, 2016.

 
Her statement of support for the Alliance is below:
I am glad to hear you are doing well with Uncle Fritz's house - I enjoyed starying there so much and have such fond memories of visiting Oma at the Big House.  You are brave souls at LLA!  Frederic and Aldo would be so impressed.  What a whopper of a project:  I like your vision of saving the property for learning nature and the Land Ethic.
Your statement about Dad learning from the rocky glens at an early age - the strata & fossils shaping his concept of nature as more than plants and animals - resonates with me so much.  He later relied on that animal - geology - time connection and wrote about it often in his essays, as central to learning about our Great Possessions.
Access to the out of doors, real nature as Dad experienced it, is vitally important to developing affection for the land, for nature. He did that again for us kids when he bought the Shack in Wisconsin - where we went faithfully every weekend.   
Your ideas are very progressive, I am so impressed with all you are doing, and eager to have it succeed.  So please keep me in mind; I would like to be in regular touch with you, and will be happy to work with you on the Board.  
I send admiration and greetings.  
 Warmly,
 Estella Leopold
---

Buying the Leopold Childhood Homes
The Leopold Landscape Alliance is the new owner of the Leopold Childhood Home at 111 Clay Street, Burlington, Iowa!

Our thanks to all our generous donors who made this a reality, to Farmers & Merchants Bank & Trust for providing us with a mortgage, and to previous owner, Mary Shier, for being more than a willing seller.   Individuals and local foundations have insured that there will continue to be a physical presence to tell the Starker-Leopold conservation story and the roots of his 'Land Ethic' here in Burlington. 
Now we will begin the second phase of fund-raising with a more national reach.  Our aim is to raise $1.25 million toward purchasing the Leopold Birthplace at 101 Clay Street, retiring the mortgage on 111 Clay Street, and creating a maintenance fund for both properties.
 Uses for the properties will include:
1.  An Environmental Studies and Research Residency Program--studying the natural sciences and the humanities, utilizing Leopold's writings to investigate the relationship between humans and nature in today's society.  The residency program will be open to individuals, colleges, agencies and non-governmental organizations. 
2.  Interpretation of the Starker-Leopold family conservation legacy on the home grounds and in the region where Leopold began to realize the importance of the biotic community to include people. 
3.  A collection center for information and conservation help for private land owners in the region.
Leopold is especially relevant to this region because it is our landscape that set him on the path to his "Land Ethic."  The changing culture for todays' children needs the same stabilizing force of nature that kept Aldo grounded during the rapid cultural change at the turn of the last century.
Surprises in nature and discovering the feeling of freedom in the outdoors leads to a renewal of the human spirit.  Throughout Aldo's career he drew strength from memories of his childhood tramps and continued to seek out new adventures, using these reflections to stay invigorated.

The Historic Leopold Houses fund raising project is not so much about the past, as it is understanding the sources of Aldo's success.  Leopold's life can help guide us and our children to a better and more balanced future.  The Starker-Leopold home compound provides an important opportunity for more detailed interpretation of Aldo's "Ethics and Esthetics" approach to humans as a part of the biotic communities.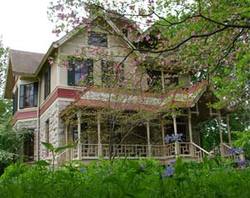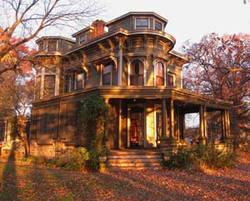 The Leopold Landscape Alliance
To honor Le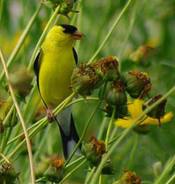 opold's background here, we have created a non-profit organization to help private landowners with "land health" concepts and habitat restoration in the bi-state region of Iowa and Illinois.
While we rely on Aldo's legacy to guide our  projects, we also celebrate the conservation legacy of his siblings, parents, and the Starker grandparents.  Connecting the humanities to nature and aesthetics was a core part of the Starker-Leopold home ground education. 
The Alliance's two primary goals are:
1.  To support Aldo Leopold's "Land Ethic" by drawing attention to the Leopold childhood homes and natural areas in Iowa and Illinois that contributed to the development of his early years and later philosophy.
2.  To enhance, restore or acquire land for conservation projects within the watersheds of Iowa and Illinois along Pool 18 and 19 of the Mississippi River.
Our first step is to acquire Aldo Leopold's boyhood homes where he lived when he was first exposed to the natural world and encouraged by his family to explore the nearby wild lands. The Leopold Houses projected uses include facilities for 1) guest residence for Leopold researchers, artists and Leopold family visiting Burlington.  2)  interpreting Leopold family conservation history.  3) collection point for conservationists to gather natural science information for the region.
The Burlington area could become a center, along with Wisconsin and the Southwest, for the celebration of Leopold's philosophy--connecting working landscapes and wild land recovery.
Celebrating Leopold in the Iowa-Illinois bi-state region will have long range benefits for economic development and tourism. Conservationists from around the world are interested in Leopold's writings and seek out places where his experience and values continue to be relevant in today's changing culture and increasing need for environmental awareness.
---
 Aldo Leopold, Burlington's Native Son
Aldo Leopold, world renowned conservationist was born and raised in Burlington, Iowa where he developed a love of the outdoors.  He is widely known as the author of A Sand County Almanac (1949).  This collection of observations and essays has become a conservation classic and is still in print with over two million copies sold.  Leopold is most famous for his expression of the idea he called a "Land Ethic." 
Much of the b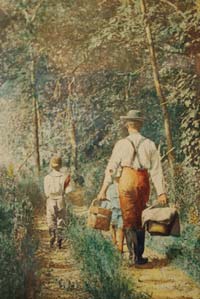 asis for his concern about wild places and human values grew from childhood discoveries in the Burlington area--the bluffs, rocky ravines, islands, bottomlands on both sides of the Mississippi and the sand prairie-black jack oak savannah of Illinois.   Leopold's extraordinary family grounded him in the humanities and connected these arts to nature.  For a discussion on how Leopold's early sources of family and wild places stimulated his imagination, contact the Alliance for a program on Leopold' s Burlington years.  (Visit the Contact Us page.)
We hope the Burlington Leopold story will add another layer to your study of conservation.  Perhaps knowing more about Leopold's childhood will open new doors of understanding and help explain the need for nature in our lives.
For more information on Leopold's career visit our friends at the Aldo Leopold Foundation in Baraboo, WI or check out the Leopold documentary at  www.GreenFireMovie.com.
                                                                                                                                                                                                                                                                                Aldo and Father Carl at Crystal Lake
"The Land Ethic was the end result of a long process of experience and reflection.  In many ways it was the culmination of his life journey."   -- Curt Meine, Green Fire
---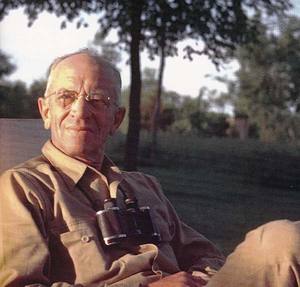 As Aldo said,
" This much at least is sure… My earliest impressions of wildlife and its pursuit retain a vivid sharpness of form, color and atmosphere that half a century of professional wildlife experience has failed to obliterate or improve upon."
 Photo courtesy of Aldo Leopold Foundation www.aldoleoopld.org
---
"As a society we are just now beginning to recognize the depth of Leopold's work and thinking."
Mike Dombeck, former Chief, US Forest Service, Greenfire: A Land Ethic for Our Time
---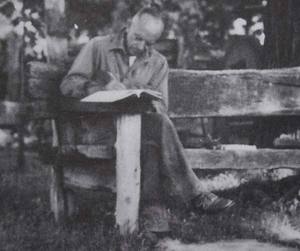 "His writing was so deep and so layered that you can find something new each time you pick it up."     
Buddy Huffaker, Pres. & Exec. Dir., Aldo Leooold Foundation, Green Fire







                                                                                                                                                  Photocourtesy of Aldo Leopold Foundation,

www.aldoleopold.org
---