Events
Intern Program
Summer Intern 2016
Our first summer intern, Lou Krieger-Coen, is a student at the University of Iowa.  She was sponsored by a generous grant and worked on several projects.  One of her major accomplishments was the removal of vines from the house to prevent siding damage.  She also removed exotics from the wildflower garden, and did some painting.  She studied local Leopold history and essays, carrying the information back to her professors.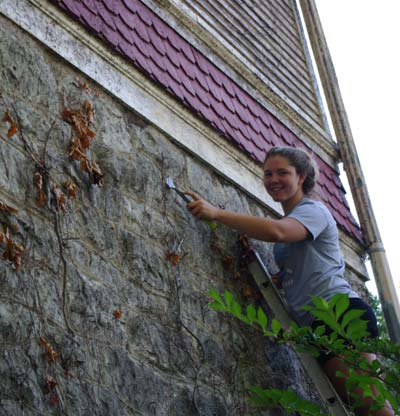 Lou works on removing Virginia creeper vines from the Leopold Childhood Home.
---
Intern 2017
This year added a new angle to fostering conservation leadership based on Leopold's adventures around the Lug-ins-Land Compound and Burlington.  In addition to youthful interns, also important are the retired Leopold fans, who now want to engage the Leopold Legacy further than they previously had time for.  So this year we expanded the intern idea to an elder/intern session utilizing the skills of an older Leopold fan.  Paul Ziglar, himself a native Prospect Hill boy, signed on to help develop this idea.  His program focused on projects around the house and grounds, reading deeper into Aldo's essays, and helping to host our various guests and events. Paul worked with Steve on pruning and caring for the grounds, and Paul and his wife, Cathy, painted the front porch steps.