From the small scale of an individual tree or a prairie outdoor classroom to the large landscape scale of whole watersheds --- all projects are pieces of an ecosystem puzzle.  Here is an example of a small scale project we have been working on with the Leopold Heritage Group.


Leopold's Trees
The Starker/Leopold family had a tradition of planting trees for important occasions like birthdays and weddings.  For Aldo's birth day they planted a red oak in 1887. Actually, Grandfather Starker planted red oaks for each of the four grandchildren.   By 2013 the great tree had reached a diameter of five feet.  A heavy storm took the tree down on May 30, 2013, or it might have lived many more decades. Several of the Starker-Leopold maples also blew down.   Another record storm in 2014 toppled more of the large sugar maple trees on the property.  We are replanting seedlings from the original trees for continuity through the generations. 
Rather than have the trees go for firewood, it was decided to save as much of the trees as possible for enjoyment by the ever growing number of Leopold enthusiasts. Some of the wood is being used for fund raising projects and for museums and visitor centers.  Jim Spring, Frederic Leopold's grandson, is turning beautiful wooden bowls.  Sculptor Homer Daehn is working on a piece.  Furniture is being made from the lumber.  The Midewin National Tall Grass Prairie folks came over and took a large stump to have carved for their visitor center.  The straight logs have been sawed into lumber for furniture and memorial plaques.  A bench in the new Port Louisa National Wildlife Refuge Visitor Center was constructed from this wood.  The Aldo Leopold Foundation in Baraboo also plans to use some of Leopold's oak in a display. And now Covered Bridge Country Canoe Works is building a wood strip canoe incorporating Leopold Red Oak and Starker-Leopold Sugar Maple.   
---
Aldo's Red Oak Birth Tree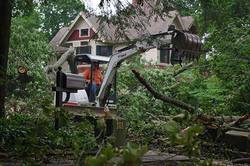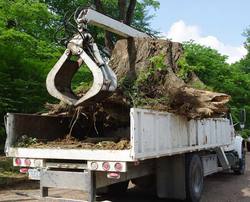 THE RED OAK REBORN
Crooked limbs with knots, burls and crotches, along with the stump and root wad, have been saved for sculpture projects of varying sizes.  These range from 1' x 3' to 5' x 8', and larger for the tree base.  Possibly, some of these pieces could be rotated between display sites to generate continuing Leopold interest, and perhaps brought together for conferences or special celebrations.
Large sculptures present a photo opportunity for visitors. People relate to places were they can capture a moment in their lives that connects to something bigger than themselves, something reverent.  Having a photo by a Leopold treasure could become popular, perhaps even become a pilgrimage for conservationists.
Milled lumber has been purchased by the Aldo Leopold Center for Sustainable Agriculture at Iowa State University in Ames, to construct a conference table. Boards have also gone to the Leopold Wilderness Institute in Missoula, Montana to make a building sign.  And a number of local woodworkers are making plans to build tables and other furniture pieces to be used on the property.
Let us know if your group is interested in adding to your Leopold conservation display.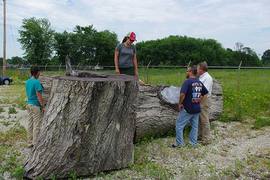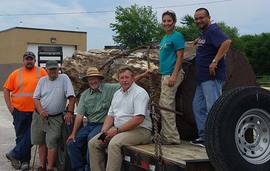 Midewin National Tall Grass Prairie staff, USFS                Casey Chadwick, Ed Whitmore and Steve Brower       from Joliet.IL,. deliberating about which log to                   of Burlington and Rick Short, Lucero Torres,           choose for their Visitor Center.                                          and Leo Bazan (Wendy Tresouthick not                                                                                              pictured) of Midewin with the loaded log.
LEOPOLD RED OAK BOWL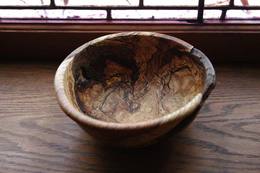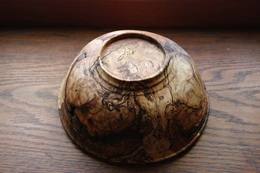 Carved from the burl by artist Jim Spring, Frederic Leopold's grandson. 
---
SCULPTORS AND SAWYERS
 
Our Wisconsin friends, sculptor Homer Daehn and sawyer Bernarde Roznos, visited us in September to begin slabbing our larger sections of Leopold wood.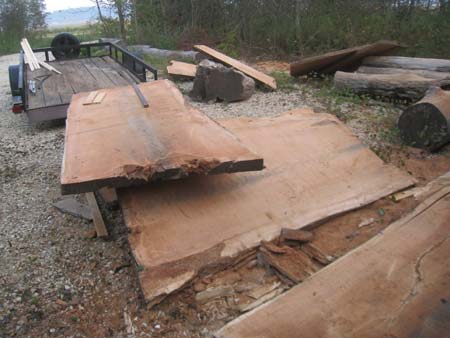 ---
Starker-Leopold Sugar Maples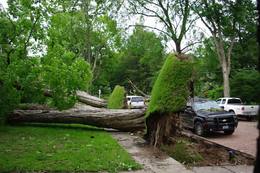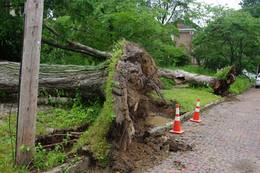 May 31, 2013                                                                 June 20, 2015
The Sugar Maples were a part of Grandfather Charles Starker's park and street improvements in the neighborhood.  How is it possible to suffer two such terrible wind storms so close together? Two giant sugar maples came down in the Red Oak storm and then in June of this year, we lost another two.   Again, it was a major clean-up effort.
 Check out more wind damage photos in the Gallery.
---
Fortunately, artist Jim Spring is crafting beautiful bowls from the Starker-Leopold Sugar Maple.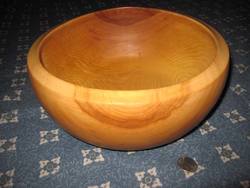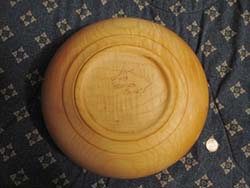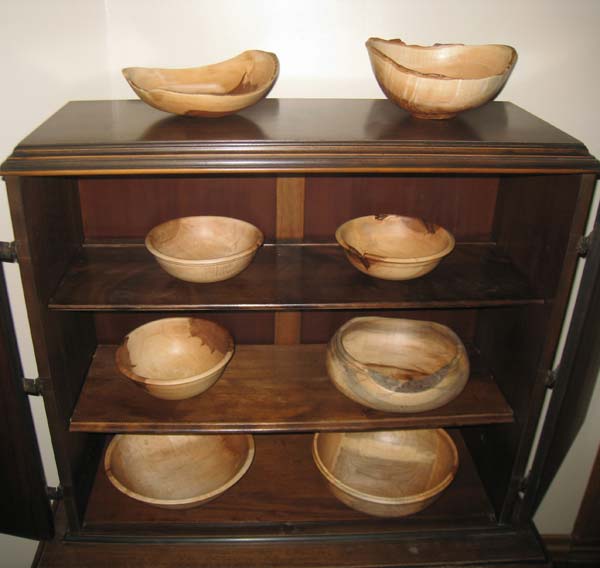 Jim creates distinctive vessels from many different types of wood.